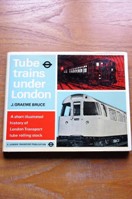 Tube Trains Under London: A Short Illustrated History of London Tranposrt Tube Rolling Stock.
By:
Bruce, J Graeme:
Category:
Railways
Publisher:
London: Transport, 1973.
ISBN:
0853290431
Hard cover book in good- condition with price-clipped dust jacket also in good- condition. Apparently signed by the author to the title page. Shelfwear to all edges of generally browned jacket with one tear repaired with tape. Extensive foxing to front and rear endpapers. Pages tanned throughout with some foxing in places. Landscape 8vo. 116pp.
Only
£6.00


Last Breaths of Steam: Commemorating the Thirtieth Anniversary of the End of BR Steam.
Author:
Welch, Michael S:
Category:
Railways
Only
£2.50



The Lost Joy of Railways: Remembering the Golden Age of Trainspotting.
Author:
Holland, Julian:
Category:
Railways
Only
£8.00



GWR Then and Now.
Author:
Waters, Laurence:
Category:
Railways
Only
£6.00