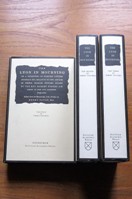 The Lyon in Mourning: or a Collection of Speeches, Letters, Journals etc Relative to the Affairs of Prince Charles Edward Stuart by the Rev Robert Forbes, AM, Bishop of Ross and Caithness 1746-1775 (in Three Volumes).
By:
Forbes, Robert; Paton, Henry (ed):
Category:
History
Publisher:
Edinburgh: Scottish Academic Press, 1975.
ISBN:
0707301009
Three hard cover volumes in very good condition with dust jackets also in very good condition. Some minor marks to jackets which are faded to spines. These are Vols XX, XXI, XXII of the Publications of the Scottish History Society. This is a very heavy set and would require substantial extra postage for overseas delivery. 8vo. 382pp, 380pp, 416pp.
Only
£145.00

Social Life in Tudor England (Rockliff New Project Series No 7).
Author:
Category:
History
Only
£2.50


Norfolk: History in the Making.
Author:
Bricknell, Joan:
Category:
History
Only
£2.50


The Geography Behind History.
Author:
East, Gordon:
Category:
History
Only
£1.50


Causes and Consequences of the Vietnam War.
Author:
Wright, David:
Category:
History
Only
£5.00


The Time for Decision.
Author:
Welles, Sumner:
Category:
History
Only
£4.00